eqMac
System Audio Equalizer for macOS
Download
Supports macOS 10.12+
Take a tour
By using eqMac you automatically agree to our
T&Cs, Privacy Policy and EULA
861k+ Downloads
|
50k+ Users
|
3.7k+ Stars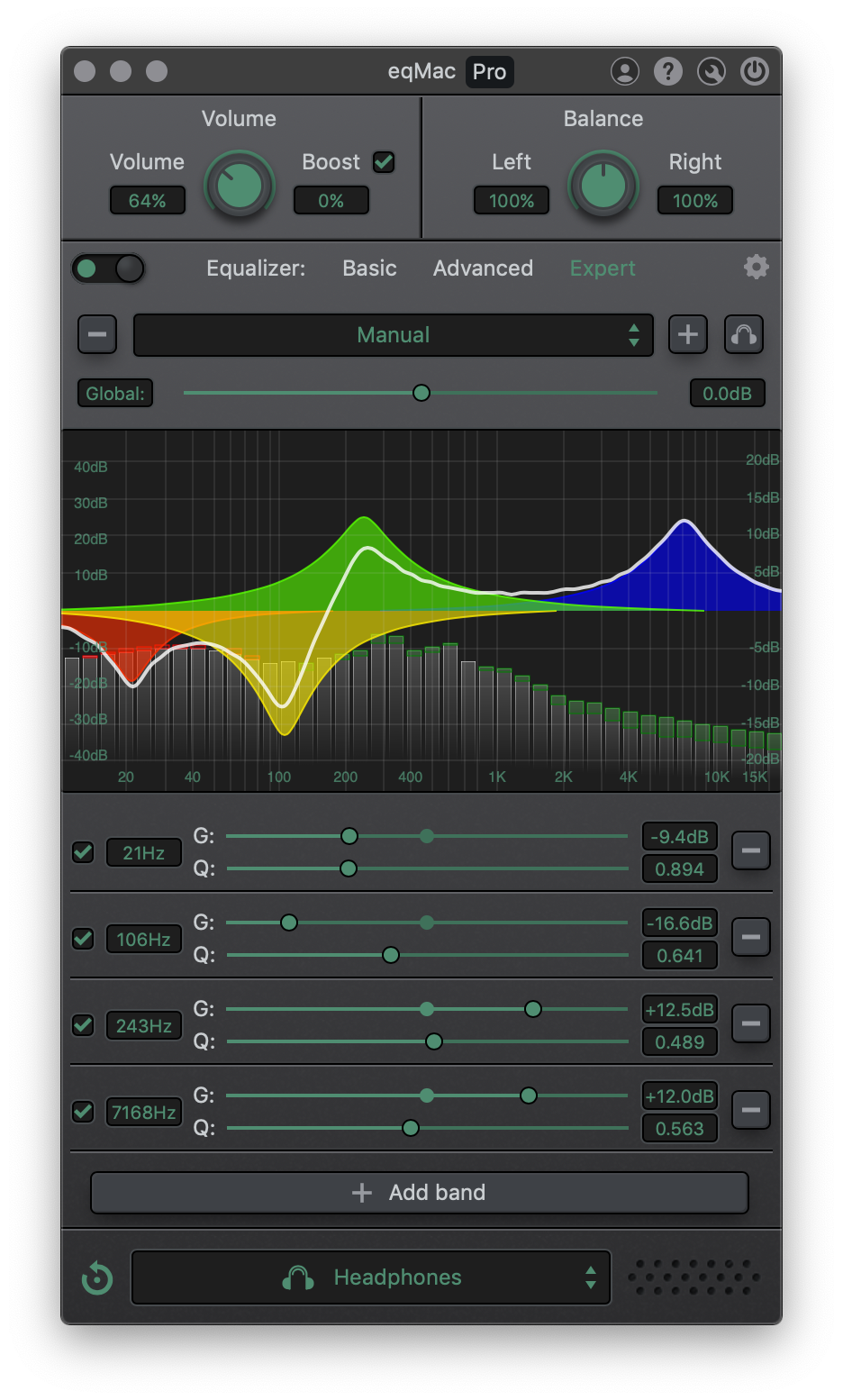 Features
Basic Equalizer
Bass, Mids and Treble Equalization. Simple
Advanced Equalizer
10 Fixed Band gain control
Expert Equalizer
Unlimited Bands - Gain, Bandwidth (Q Factor or Octaves), Frequency. Graphical Controls + Spectrum Analyzer
Volume & Balance
Volume & Balance support for HDMI, DisplayPort and any other Audio Device. Boost volume beyond 100%
Any Audio Device
Support for all Audio Device: Built-in, Bluetooth, AirPlay, USB, HDMI, DisplayPort, Thunderbolt, Aggregate and MultiOutput
AutoEQ Integration
AutoEQ
- Automatic Headphone Equalization from frequency responses
Coming Soon...
Audio Sources
Support for more Audio Sources: Microphone, Musical Instruments or Audio Files
Spatial Audio
Reverb effect simulating different listening environments
Recording
Record adjusted Audio to an MP3 File
Hotkeys
Control eqMac with Keyboard Shortcuts
Volume Mixer
Adjust volume per application across the system (just like on Windows)
Cloud Sync
Save Presets and other Settings on the Cloud and share across your devices
Separate L/R Equalizer
Equalize Audio separately for Left and Right channels. Useful for fixing a hearing impairment affecting hearing unevenly.
File Rendering
Instantly render a File with applied effects
Virtual Output
Export the Adjusted audio to any application
Frequently asked questions
All General Permissions Troubleshooting Account Pro Subscription Support Privacy
What is the point of eqMac? What is an Audio Equalizer?
How do you install eqMac?
How do I uninstall eqMac?
How do I uninstall previous releases of eqMac, like eqMac2?
Why is eqMac asking for Admin Password during installation?
Why is eqMac asking for permission to access my microphone?
Sometimes there are sound issues using eqMac?
After major macOS update eqMac doesn't work correctly anymore?
I have a different issue?
How do I Sign-up/Register?
I'm not receiving the Magic Sign-in email.
Trying to Sign-in but seeing error: "Magic Link is Invalid" or "Magic Link has expired"?
I have a problem with Purchase or Renewal of my Pro Subscription?
Why are you charging Monthly for an Audio app?
Why $3 Minimum? I only need 1 License!
Can I use Apple Pay or other Payment Processors?
I mostly use free features of eqMac, how do I get support?
I am a Pro paying customer, how do I get support?
What is up with your Privacy Policy? Why is it so not 2021?